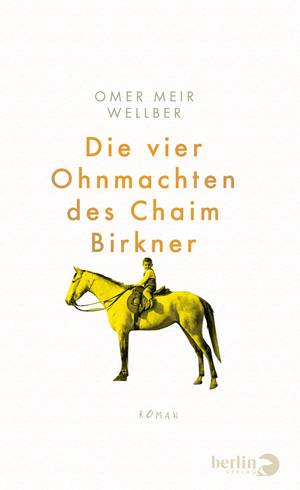 Die vier Ohnmachten des Chaim Birkner
Chaim Birkner ist 108 Jahre alt und der älteste Mann Israels. Doch er feiert nicht, er beschließt zurück nach Ungarn zu gehen, in das Land, aus dem er floh, in die Wohnung seiner Eltern, die er nie verkaufen konnte. Dorthin "retteten" sein Vater und er 1941 zwei Thora-Rollen aus der Synagoge, dort wuchs er auf mit der Nachbarin Lion, dem gelben Baum, den schmutzigen Geschäften seines Vaters… 1944 kam er nach Israel und seitdem lügt er sich durchs Leben, geht alles und jedem aus dem Weg. Ausgerechnet seine vernachlässigte Tochter Sharon zwingt ihn nun, dem Leben wenigstens einmal kurz in die Augen zu sehen. Dies ist der Roman eines müden und zerstörten Mannes, verzweifelt angesichts einer Geschichte Israels, die sonst nie erzählt wird.
"Die vier Ohnmachten des Chaim Birkner" was published by BerlinVerlag in autumn 2019. More information can be found here.
Storia vera e non vera di Chaim Birkner
Da Budapest a Tel Aviv, dal 1930 ad un futuro prossimo, la storia di un antieroe che lascia un paese sempre più estremista e decide di tornare a vivere in Europa sulle tracce del suo passato.
L'esordio letterario del direttore d'orchestra di fama internazionale Omer Meir Wellber, direttore musicale della Fondazione Teatro Massimo di Palermo.
"Storia vera e non vera di Chaim Birkner" was published on January 21 by the Italian publisher Sellerio Editore Palermo. More information can be found here.
Les Absences de Haïm Birkner
Dans un avenir proche, Haïm Birkner est sur le point d'avoir 108 ans. Il est le plus vieil homme d'Israël, et peut‑être le dernier survivant de la Shoah. Alors que l'on propose de le célébrer, Haïm scandalise quand il décide soudain de retourner en Hongrie, dans l'appartement de ses parents qu'il ne s'est jamais résolu à vendre.
Un siècle de souvenirs défile. Les images s'accumulent et se juxtaposent pour composer le roman d'une vie tantôt sincère, tantôt ironique, tantôt tragique, tantôt fantasmée. Juif de Budapest, il se souvient de son enfance, son père, ses mensonges et ses sales affaires, et de ces rouleaux de la Torah qu'ils ont sauvés de la synagogue ; mais aussi de son amour de jeunesse. Il raconte sa fuite du ghetto vers la Palestine dans des circonstances troubles, sauvé mais privé à jamais du statut de victime. Et la vie après : le kibboutz, le mariage, la séparation, les petits boulots, les tricheries, les autres femmes, les nombreuses rencontres, les conflits entre ceux survivants de l'ancien monde et ceux pionniers de l'État d'Israël.
Les Absences de Haïm Birkner est l'histoire inventée et parfois vraie d'un homme las et dévasté, confronté une dernière fois à son passé.
"Les Absences de Haïm Birkner" was published by Éditions du sous-sol in summer 2022. More information can be found here.
Die Angst, das Risiko und die Liebe

I am happy yo announce my first book that I wrote together with German publicist Inge Kloepfer in German language: In "Fear, Risk and Love – Moments with Mozart" I want the reader to participate in my approach to Mozart's music by sharing my experience of conducting the three Mozart/Da Ponte operas Don Giovanni, Le nozze di Figaro and Così fan tutte. Each of those three masterpieces I attribute to one of life's big topics: fear, risk and love.
Today I know that the way I play and conduct Mozart, arises from my own personal view on this unique composer.
The book was published on 23 February 2017 by the Austrian publishing house Ecowin, both as hard cover and e-book. More information can be found here.