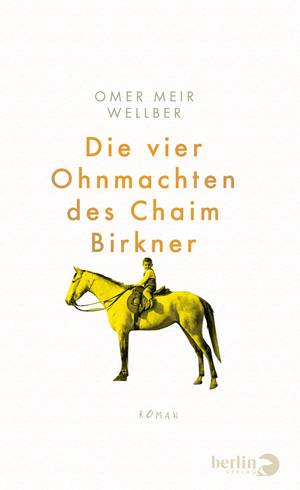 Die vier Ohnmachten des Chaim Birkner
Mozart ist für die Ewigkeit …
… und für den Moment, sagt der israelische Star-Dirigent Omer Meir Wellber.
In diesem Buch bietet er ein verblüffendes Mozartbild und einen ganz neuen Zugang zu seiner Musik am Beispiel der drei Opern Don Giovanni, Die Hochzeit des Figaro und Così fan tutte, die er drei großen Lebensthemen zuordnet: Angst, Risiko, Liebe.
Mitreißend und fantasievoll erzählt der Autor, wie der Musiker Mozart und der Dichter Lorenzo Da Ponte durch ihre unkonventionelle und fruchtbare Zusammenarbeit der Operngeschichte eine neue Wendung gaben.
Die Angst, das Risiko und die Liebe

I am happy yo announce my first book that I wrote together with German publicist Inge Kloepfer in German language: In "Fear, Risk and Love – Moments with Mozart" I want the reader to participate in my approach to Mozart's music by sharing my experience of conducting the three Mozart/Da Ponte operas Don Giovanni, Le nozze di Figaro and Così fan tutte. Each of those three masterpieces I attribute to one of life's big topics: fear, risk and love.
Today I know that the way I play and conduct Mozart, arises from my own personal view on this unique composer.
The book was published on 23 February 2017 by the Austrian publishing house Ecowin, both as hard cover and e-book. Find more information on the book and the publishers announcement here.